passing through: Tom Leonard's Final Work Published in New Book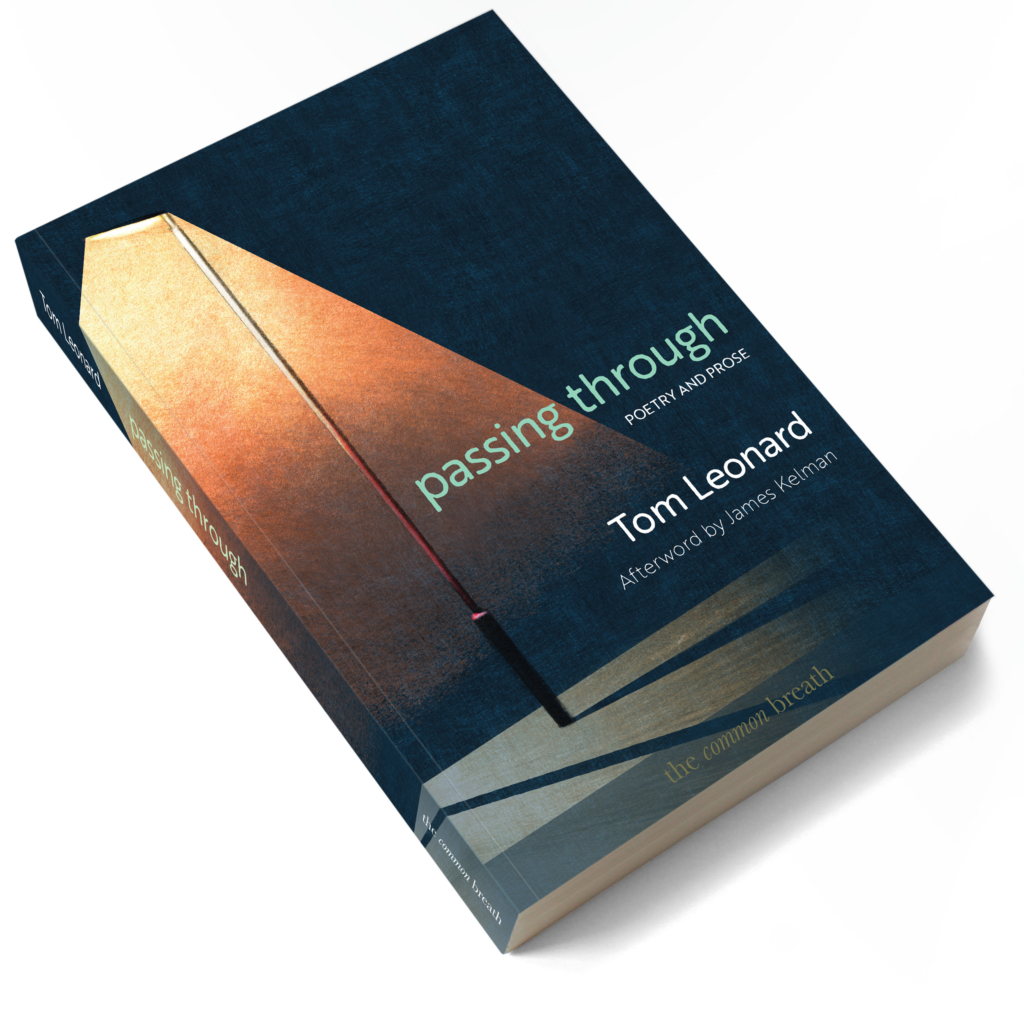 Today's mail brought Tom Leonard's posthumous book passing through, which has just been published. It is a treasure.
It is impossible to discuss him without using superlatives; he was one of the greatest Scottish poets of the last hundred years, and one of the most important political thinkers, and his impact on the language is equalled only by that of Fergusson, Burns and MacDiarmid.
Although I lived a few minutes walk from his place in Glasgow's West End in the mid-1980s, I never met him during that time, though I was as affected by his work as every other Scottish poet of my generation. In the early 1990s, when I was living in Edinburgh, I applied for a writer in residence job at Bell College in Hamilton. When I showed up for the interview, and saw that he was one of the other applicants, I knew I had no chance. As we walked from the college to the train station, he asked if I wanted to go for some pints. I forget which Glasgow pub we ended up in, but we stayed late. There is a saying that you should never meet your heroes, but I found the man as impressive as his work, a feeling that seems to be the consensus among those who knew him.
I moved to the U.S. in 1995, and we lost touch. I moved back to Glasgow in early 2017. One night soon after, I had a discussion with my partner, and my niece, and my sister, about the Scots language, particularly about how my niece felt that the Scots she speaks was inferior, or, as she called it, "talking rough." I pulled a book off my shelf and read her this by Tom Leonard:
Right inuff

ma language is disgraceful

*

Ma maw tellt mi

ma teacher tellt mi

thi doactir tellt mi

thi priest tellt mi

*

ma boss tellt mi

ma landlady in carrington street tellt mi

thi lassie ah tried tay get aff way in 1969 tellt mi

sum wee smout thit thoat ah hudny read Chomsky tellt mi

a calvinistic communist thit thoat ah wuz revisionist tellt mi

*

po-faced literati grimly kerryin thi burden a thi past tellt mi

po-faced literati grimly kerryin thi burden a thi future tellt mi

ma wife telt me jist-tae-get-inty-this-poem tellt mi

ma wainz came hame fray school an tellt mi

jist aboot ivry book ah oapned tellt mi

even thi introduction tay thi Scottish National Dictionary tellt mi

*

ach well

all livin language is sacred

fuck thi lohta thim
A couple days later, the four of us were hanging out at Coffee Pod on Woodlands Road. Sitting on a couch near our table, breathing with the help of an oxygen tank as he wrote in a notebook, was Tom Leonard. He told me had COPD, then laughed and said, "When I tell people, they usually say, 'I knew somebody who had that.' It's always had, never has." There was no self-pity in him. We talked about the poetry of our mutual friend Gerry Loose, and about how right wing the Scottish Labour Party had become, and he was as warm, acerbic and brilliant as ever. We emailed each other poems and essays after that, but did not meet up again. He died on the Winter Solstice of 2018.
Rest in Poetry.
#TomLeonardPoet #ScottishPoetry #PoetryInScots #GlasgowPoems #ScottishBooks #GerryLoose
Profile at Scottish Book Trust
This site does not track you.